(BPT) - There's nothing quite like having the perfect cocktail in your hand to go with the good vibes of a summer party. If you're searching for something new to make your sun-drenched soirée complete, give this surprising trend a try: Mix up these port-based summer cocktails, serve and enjoy! Yes, we love to sip a lovely port on cold, winter nights to close out a satisfying meal. Some of the most creative bartenders across the U.S. have discovered that a splash of port is also the perfect add-in to a summer drink to capture the mood.
Delight your taste buds and your guests with a port-based summer cocktail. If you'd rather leave it to the experts, you can try these tasty drinks created in bars across the U.S.-including Los Angeles, San Francisco, New York, New Orleans and Denver.
Portiki by Sean Kenyon at Denver's Williams & Graham
Some things are just made to go together, like this tropical-inspired concoction, hot summer nights and grooving to your favorite tunes.
Ingredients:
1 ounce Sandeman Tawny Porto 10 Years Old
2 ounces fresh pineapple
1 1/2 ounces aged Jamaican rum
3/4 ounce lemon juice
1/4 ounce turbinado syrup
1/4 banana
Garnish: Angostura bitters float
Directions:
In a mixing tin, muddle banana, add all other ingredients, ice and shake. Strain over crushed ice in a tiki mug. Float Angostura bitters.
Ward House by Adam 'Boots' Brogan at San Francisco's Wayfare Tavern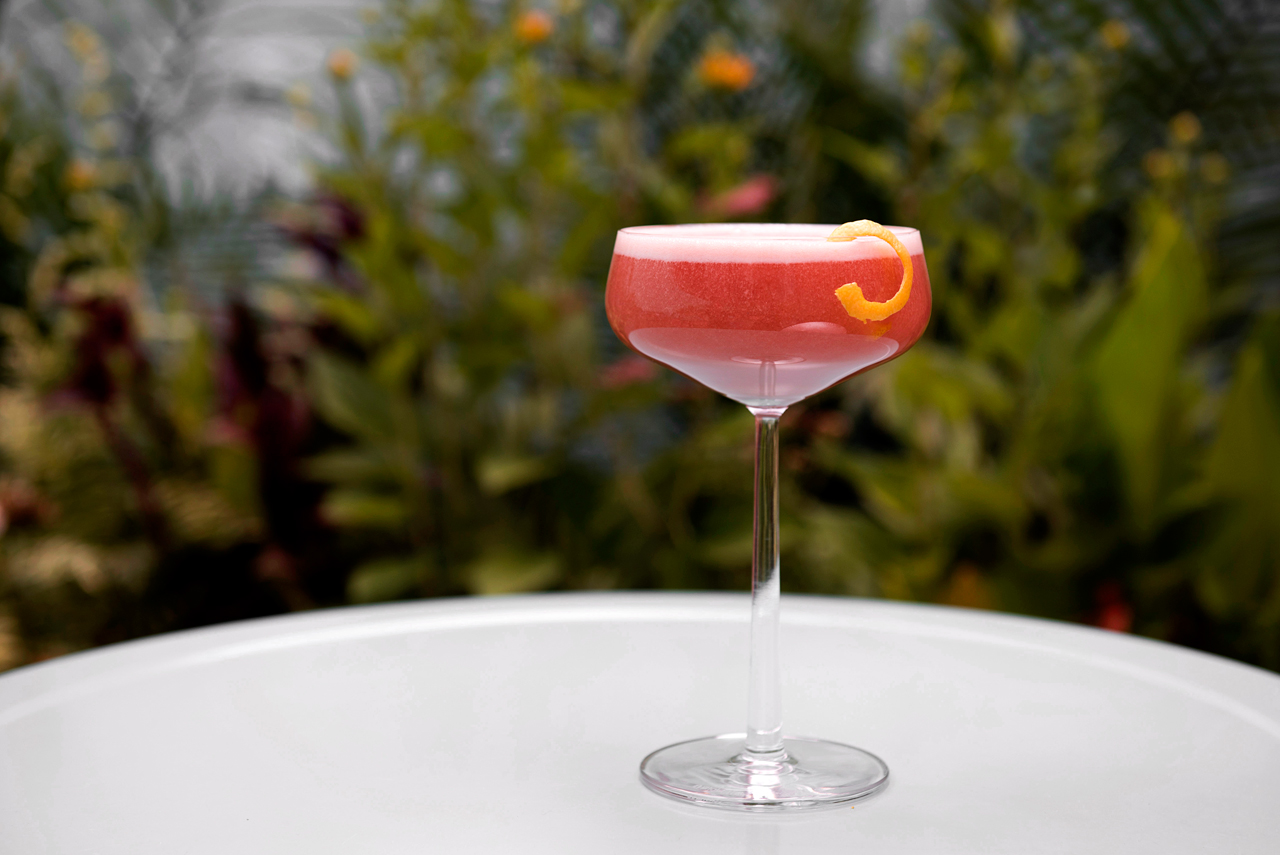 With a splash of ruby red and hint of sweetness in your glass, this summer spin on the classic martini will make you an instant tastemaker at the party.
Ingredients:
1/2 ounce Sandeman Founders Reserve Ruby Porto
1 1/2 ounces Absolut Elyx
1 ounce Plymouth Gin
1 bar spoon lemon gum syrup
2 dashes orange bitters
Garnish: 1 lemon twist
Directions:
Build the cocktail in glass beaker, stir and then single strain. Express lemon oil from lemon peel. Pour into a coupe glass, garnish with a lemon twist and serve.
Tawny Dancer by Rosie Ruiz at Los Angeles' Cole's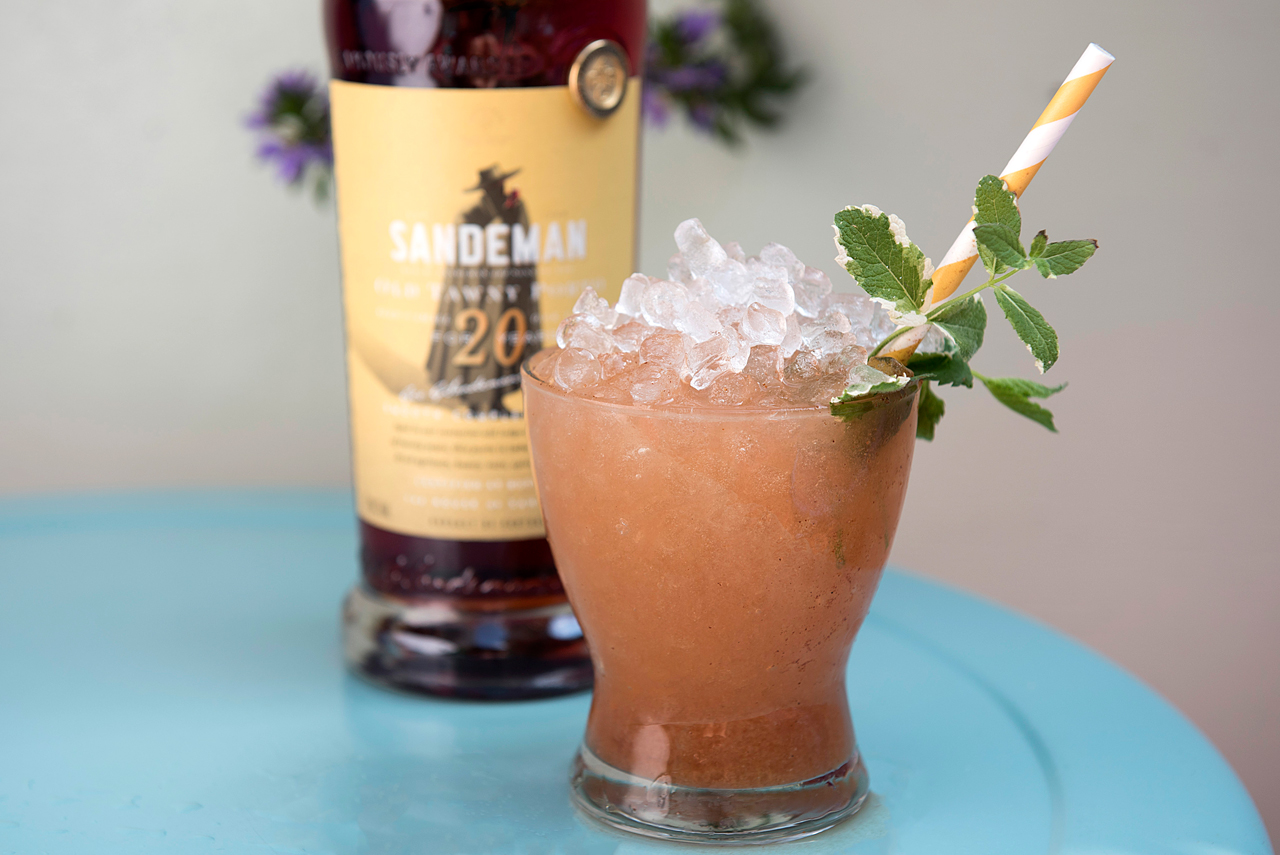 If you're searching for something with that certain swingin' cool-cat-in-paradise feel, this drink's right up your alley. With homemade macadamia nut orgeat, everyone will be singing its praises.
Ingredients:
1 1/4 ounces Sandeman Tawny Porto 20 Years Old
3/4 ounce Pyrat XO Reserve Rum
3/4 ounce fresh squeezed lime juice
1/2 ounce homemade macadamia nut orgeat* (see recipe below)
Garnish: ground nutmeg, ground cinnamon, mint sprigs
Directions:
Place all ingredients in cocktail shaker with one piece of ice and shake vigorously until ice is dissolved. Pour ingredients from shaker into a double rocks glass or short decorative tiki glass.
Top with crushed ice. Grate fresh nutmeg and cinnamon on top and gather a hefty amount of mint sprigs to garnish.
*Homemade Macadamia Nut Orgeat
Ingredients:
12 ounces macadamia milk (1 cup raw macadamia nuts, 2 cups warm water)
1 pound brown sugar
3 teaspoons vodka
2 teaspoons cognac
2 teaspoons amaretto
1/4 teaspoon rosewater
1/8 teaspoon fresh nutmeg
1/8 teaspoon fresh cinnamon
Directions:
Place macadamia nuts in blender with warm water and blend. Strain through super fine cheesecloth.
Place macadamia milk, sugar, nutmeg and cinnamon in saucepan on medium heat. Stir until sugar is dissolved. Remove from heat and stir in cognac, amaretto, vodka and rosewater. Store in refrigerator until use.
Porto Call by Jaime Rios at Manhattan's Top of the Standard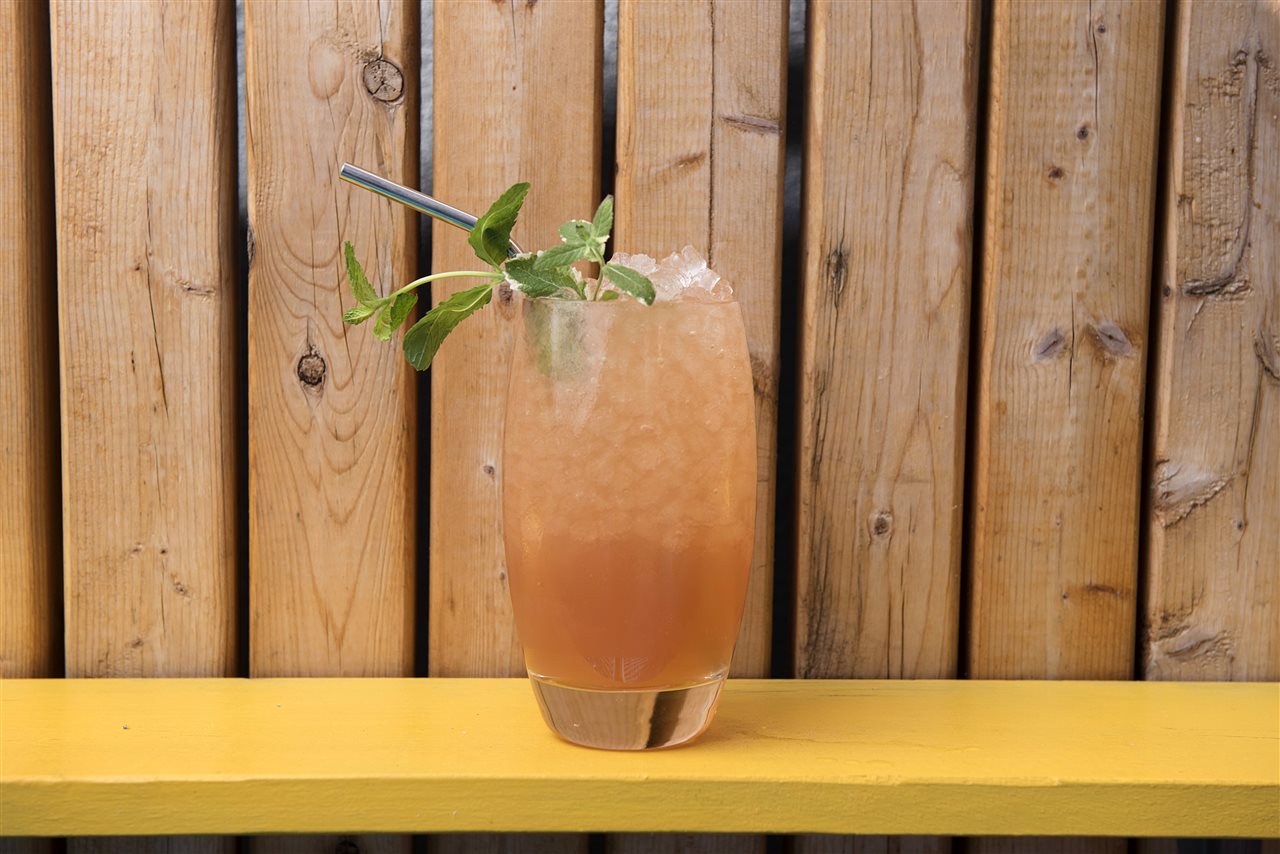 What happens when a martini and sangria get married and have a baby? You get a sophisticated summer drink that's true to its deep, continental roots.
Ingredients:
3/4 ounce Sandeman Tawny Porto 10 Years Old
1 1/2 ounces London dry gin
3/4 ounce Dolin Blanc Vermouth
1 ounce blood orange juice
1/4 ounce simple syrup
Garnish: 1 bunch fresh mint, 1 candied blood orange wheel
Directions:
Add all ingredients into mixing tin, plus 6 fresh mint leaves and shake. Strain into highball with crushed ice. Garnish with mint sprig and candied blood orange wheel.
Rumours by Waites Laseter at New Orleans' Root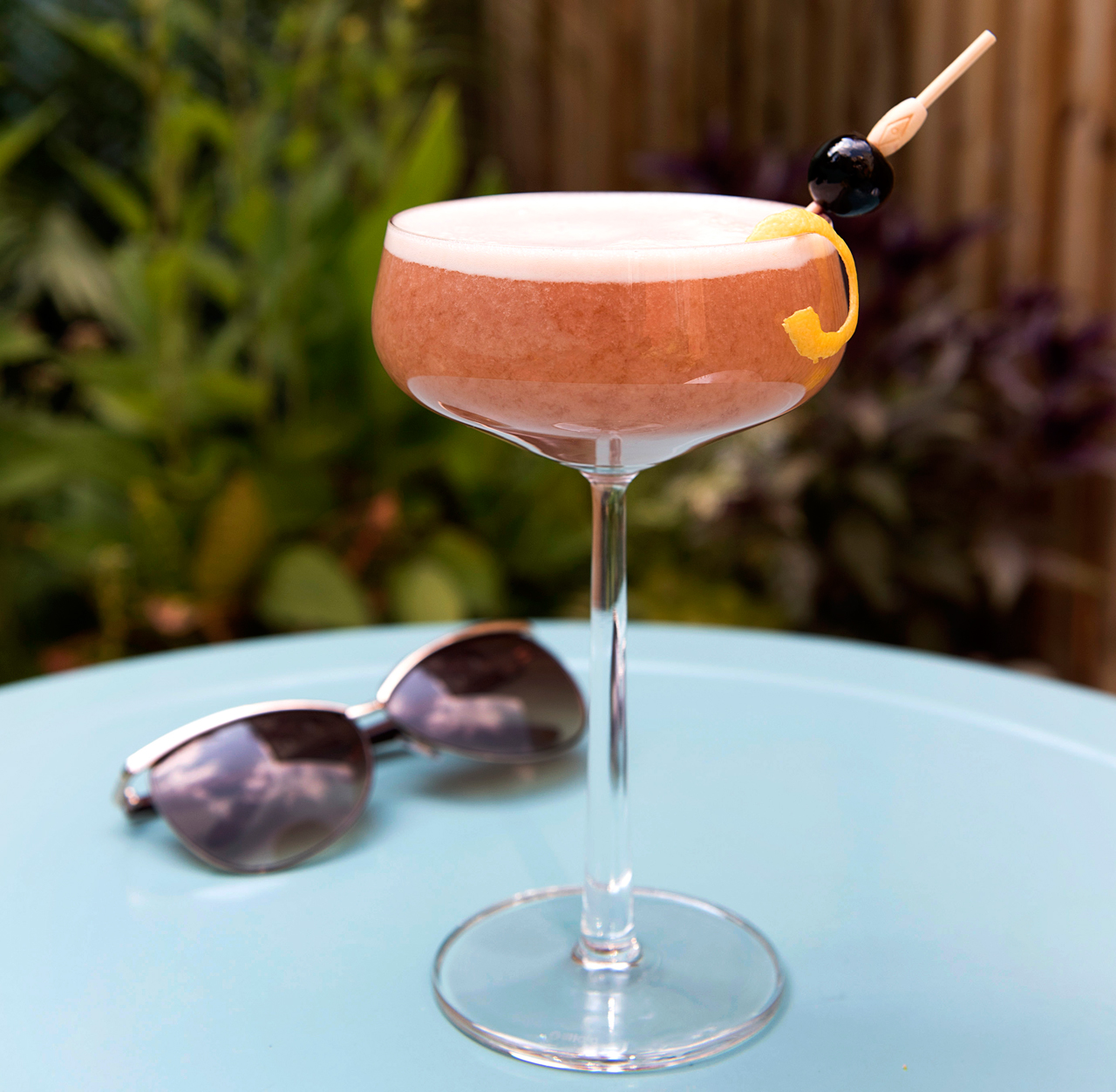 This summer punch with a refreshing splash of orange citrus is a callback to classic sangria. However, this drink adds a mixologist's secret weapon-egg white-to transform it into a rich, creamy experience.
Ingredients:
1 ounce Sandeman Tawny Porto 20 Years Old
1 ounce pisco
1 ounce freshly squeezed orange juice
1/4 ounce egg white
2 dashes Regans' Orange Bitters
1 dash lemon
Garnish: 4 drops El Guapo Love Potion No. 9, 1 drop Luxardo Maraschino Cherries juice, 1 lemon twist, 1 Maraschino Cherry
Directions:
Combine ingredients, dry shake, wet shake and double strain. Serve in a coupe. Top off with 4 drops of El Guapo Love Potion #9 Bitters and a drip of Luxardo Maraschino Cherries juice. Spear with a lemon twist and a Luxardo Maraschino Cherry.
Mask of Massiot by Watson Barry at San Francisco's Le Cheval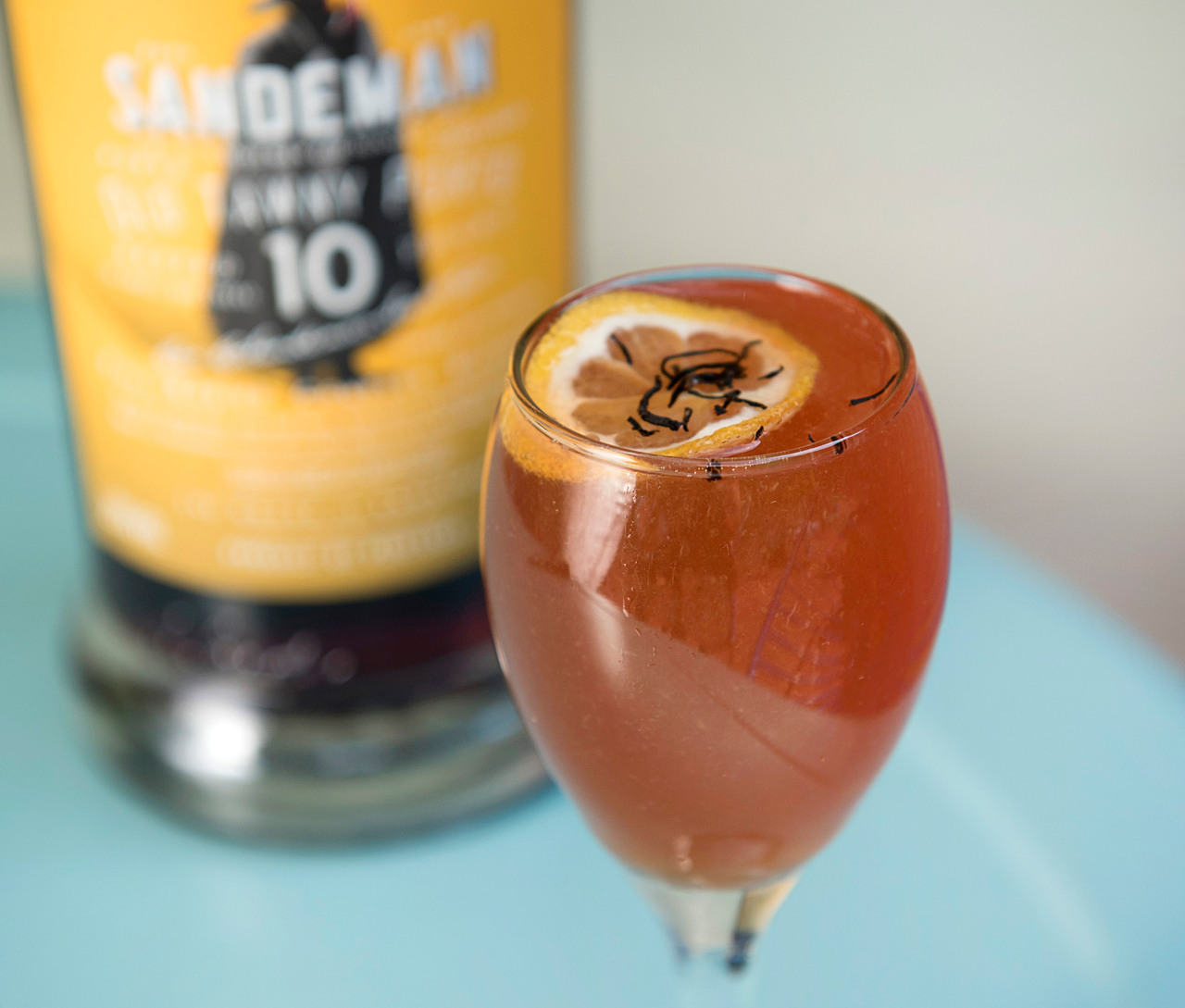 Don't be fooled by the simple appearance of this concoction. One sip and you'll discover a deeply flavorful but refreshing summer cocktail experience with a French secret to add to the excitement.
Ingredients:
1 1/2 ounces Sandeman Tawny Porto 10 Years Old
1/4 ounce Bénédictine
1/4 ounce Mandarine Napoleon
1/4 ounce Scottish gin
3/4 lemon
1/4 ounce Small Hand Foods Orgeat
1/4 ounce Small Hand Foods Passion Fruit Syrup
1 dash DRAM Black Bitters (Black Tea and Black Pepper)
1 dash Bitter Queens Sassy Sally Sarsaparilla Bitters
French absinthe
Garnish: 1 dehydrated lemon sprinkled with Scottish black tea
Directions:
Rinse a Nick and Nora glass with a French absinthe and set aside. In a cocktail shaker add the ingredients listed above. Shake vigorously, then strain into the Nick and Nora. Garnish with a dehydrated lemon sprinkled with Scottish black tea.
Save
Save